Low rate, no deposit loan options on all Earthmoving Equipment*


The majority of yellow goods are financed by non-bank lenders as opposed to the banks. When it comes to financing earthmoving equipment such as excavators, bulldozers, backhoe loaders and graders, a custom solution is often called for.

Triple 8 Equipment Finance offers a number of bespoke funding solutions suitable for new and used heavy equipment purchases, whether you're buying through a dealer, auction, or private sale.

We're experienced in sourcing earthmoving equipment loans for all industries including landscaping, construction, civil earthmoving, plant hire and more.

• 24-hour approvals

• Low doc excavator and earthmoving equipment loans (no financials required) up to $500k

• Purchase, lease or rent-to-own

• All older assets financed

• Credit impaired applicants acceptable

• Yellow goods replacement loans

• 0-2 year ABN loans available

• Up yo 7 year loan terms available

Why Triple 8 Equipment Finance?
30+
Lenders to choose from
100%
Finance with zero deposit
Your Plant and Equipment Finance Specialists
Triple 8 Equipment Finance are commercial asset finance specialists. We handle the entire process from application to settlement and can even look after your earthmoving equipment insurance requirements through our dedicated partner network.

The equipment finance market has evolved significantly over the past few years to include a wide range of specialist financiers and other bank competitors. We compare the market to provide you with the most competitive rates and best outcomes available, or to guide you in the right direction if your earthmoving equipment finance needs dictate a specialist funding solution.

We are a boutique brokerage dedicated to providing the highest level of service, fast turnaround on applications, and placing our customers' needs first at all times.

Call us for a confidential, no-obligation discussion on all your excavator and earthmoving finance options, or request a call-back at a time convenient to you.

Our Funding Partners
Through our extensive lender panel, Triple 8 has access to a wide range of financial products to provide tailored funding solutions for our clients.
In addition, we have direct access to a number of smaller niche funders that provide working capital solutions. business loans and lines of credit as a value-added service to our customers.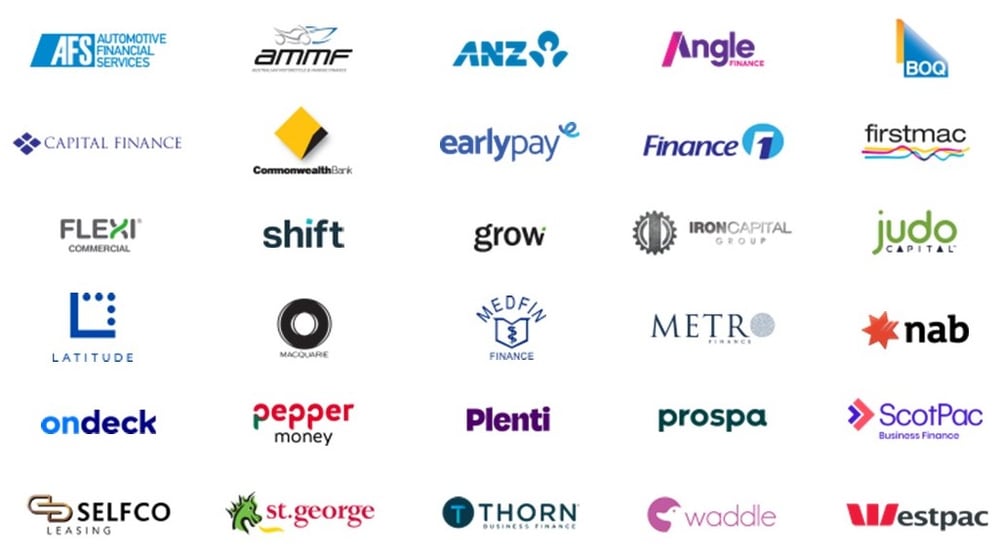 Earthmoving Equipment Loans - Q & A
What kind of earthmoving equipment do you finance?
Triple 8 provides easy finance options for earthmoving equipment of all types and sizes, from mini excavators and tracked or wheeled loaders to heavy earthmoving and mining equipment. We finance both new and used equipment up to any age.
Can I get earthmoving equipment finance for a start-up business?
Yes, start-up businesses and new operators are eligible for earthmoving equipment loans just like any other established business. Triple 8 specialises in assisting new operators or start-up businesses secure earthmoving equipment loans and will guide you step by step through the application and document preparation process. Check out our helpful tips for start-ups and new ventures.
Do I need a deposit for an excavator loan?
Certain lenders may require non-property owners to put down a deposit of around 20% of the purchase price. Start-up businesses will also be required to use their own funds as a deposit. In some cases, the lender will accept unencumbered assets in lieu of a cash deposit provided there is enough equity in the equipment to cover their requirements.
I have bad credit, will that be a problem?
Not necessarily. Because we understand that things can sometimes go wrong in life, Triple 8 provides a number of options that allow businesses or individuals with impaired credit to secure a truck loan. When assessing an application for a bad credit truck loan, certain lenders will look beyond your credit file and take other factors into account, such as trading history and current financials.
Do I need to provide my business' financials to get a loan?
Depending on your circumstances, earthmoving equipment loan applications may be made on a Low/No Doc or a Full Doc basis, each of which require varying degrees of supporting information. Full financials are not required for Low or No Doc applications, and depending on the required loan amount, you may not need to provide any financial information at all. At Triple 8, we will assess your eligibility for each option and advise you on the most suitable equipment loan options for your circumstances.
Can I get an earthmoving equipment loan if I have an overdue tax debt?
Yes, an outstanding ATO tax debt does not disqualify you from being approved for a new or used equipment loan however, depending on the amount of the loan, certain lenders may ask for evidence of an ATO payment plan.
Can I finance more than one piece of equipment at a time?
Yes. For example, if you're looking to finance an earthmoving combo including an excavator loan, a skid steer loan and a tipper truck loan, we'll structure your application accordingly to find you the best solution to suit your needs
Earthmoving & Excavator Finance Application Process
The application process for earthmoving equipment loans may vary from lender to lender, however these six steps outline the typical process we follow:
Step 1
Complete a brief telephone or face to face interview to discuss your borrowing requirements and current business situation
Step 2
Triple 8 will revert with a recommended lender strategy and provide a list of supporting information required from you to proceed
Step 3
Once we've receive your information we'll call you at a convenient time to complete the application over the phone before submitting it to the lender
Step 4
Provided no further supporting information is requested by the lender, an approval may be issued within as little as 24 hours
Step 5
Triple 8 will contact the seller to request the required documents and arrange an asset inspection if required by the lender
Step 6
Loan documents are drafted for signature once vendor information has been returned
Settlement
Once loan documents have been correctly executed and returned along with any remaining information your broker will prepare the final documents for settlement. Please allow up to 24 hours from return of documents for settlement to occur