Best Rate Truck Finance Solutions
Triple 8 is proud to contribute towards keeping the wheels of Australia turning. Specialising in Truck and Trailer Loans for all types of transport businesses and business structures, including Sole Traders, Partnerships, Companies and Trusts.

Whether you're starting out on your own, or managing the challenges of a rapidly expanding fleet, we'll take the time to understand your requirements, guide you in the right direction, and take the stress out of finding the lowest rate truck loan, or even a quick approval under difficult circumstances, leaving you to focus on what you do best, run your business.

• Low interest and no deposit truck finance

• 24-hour approvals

• Low doc truck loans (no financials required) up to $500k

• Purchase, lease or rent-to-own
• Aged-vehicle finance options

• Balloon refinancing

• Truck or Trailer replacement loans

• Engine overhaul loans

• Start-ups and new business truck loans
Why Triple 8 Equipment Finance?
30+
Lenders to choose from
100%
Finance with zero deposit
Fast, friendly, and efficient. How can we assist?
Securing a commercial Truck or Trailer loan, requires a particular skillset as well as specialist knowledge of the commercial lending landscape, which is why, to ensure the best outcome for your finance application, it's important to deal only with an experienced and reputable brokerage that specialises in commercial equipment finance as opposed to a consumer, or 'Jack of all trades' broker.
We'll find you the right Truck Loan at the best rate for your individual circumstances from our wide range of lenders, including the major banks and specialist finance companies.

Call us for a confidential, no-obligation discussion on truck and trailer finance options for start-up or established business, or request a call-back at a time convenient to you.

Our Funding Partners
Through our extensive lender panel, Triple 8 has access to a wide range of financial products to provide tailored funding solutions for our clients.

In addition, we have direct access to a number of smaller niche funders that provide working capital solutions. business loans and lines of credit as a value-added service to our customers.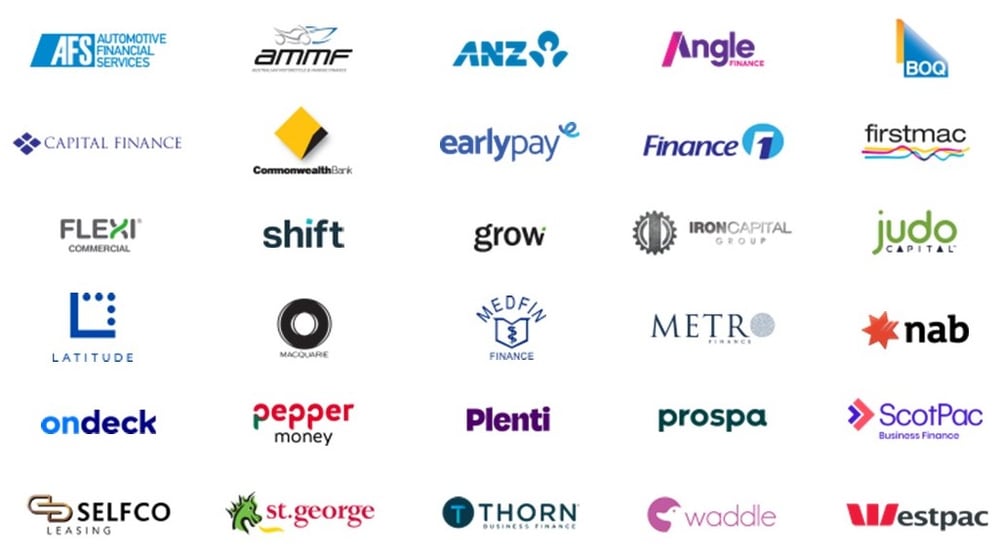 Truck and Trailer Loans - Q & A
What kind of trucks do you finance?
Triple 8 provides easy truck finance options for vehicles of all types and sizes, from small commercial Tippers and Flat Tray Loaders to Refrigerated Trucks, Rigid Trucks, Prime Movers, Livestock carriers, and B-Triple Road Trains. We facilitate truck finance for trucks purchased through private sales, auctions or truck dealers nationwide.
Can I get a truck loan for a start-up business?
Yes, start-up businesses and new operators are eligible for truck loans just like any other established business. Triple 8 specialises in assisting new operators or start-up businesses secure truck loans and will guide you step by step through the application and document preparation process. Check out our helpful tips for start-ups and new ventures.
Can I finance an older truck with high mileage?
Absolutely. As experienced truck loan brokers, we are accredited with a wide range of banks and specialist lenders and know exactly which ones offer the best truck finance options, including loans for trucks of any age with unlimited mileage.
I have bad credit, will that be a problem?
Not necessarily. Because we understand that things can sometimes go wrong in life, Triple 8 provides a number of options that allow businesses or individuals with impaired credit to secure a truck loan. When assessing an application for a bad credit truck loan, certain lenders will look beyond your credit file and take other factors into account, such as trading history and current financials.
Do I need to provide my business' financials to get a truck loan?
Depending on your circumstances, truck loan applications may be made on a Low/No Doc or a Full Doc basis, each of which require varying degrees of supporting information. Full financials are not required for Low or No Doc applications, and depending on the required loan amount, you may not need to provide any financial information at all. At Triple 8, we will assess your eligibility for each option and advise you on the most suitable truck loan options for your circumstances.
Can I get a truck loan if I have an overdue tax debt?
Yes, an outstanding ATO tax debt does not disqualify you from being approved for a new or used truck loan however, depending on the amount of the truck loan, certain lenders may ask for evidence of an ATO payment plan.
Truck Finance Application and Settlement Process
The application process for Truck and Trailer loans may vary from lender to lender, however these six steps outline the typical process we follow:
Step 1
Complete a brief telephone or face to face interview to discuss your borrowing requirements and current business situation
Step 2
Triple 8 will revert with a recommended lender strategy and provide a list of supporting information required from you to proceed
Step 3
Once we've receive your information we'll call you at a convenient time to complete the application over the phone before submitting it to the lender
Step 4
Provided no further supporting information is requested by the lender, an approval may be issued within as little as 24 hours
Step 5
Triple 8 will contact the seller to request the required documents and arrange an asset inspection if required by the lender
Step 6
Loan documents are drafted for signature once vendor information has been returned
Settlement
Once loan documents have been correctly executed and returned along with any remaining information your broker will prepare the final documents for settlement. Please allow up to 24 hours from return of documents for settlement to occur